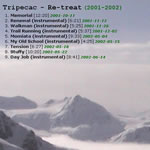 Click on the thumbnail to view a printable cd sleeve.
Title: Re-treat
Artist: Tripecac
Timespan: 2001-2002
Theme: instrumental companion
Length: 69:09
Tracks: 9
Lyrics: 0
Rating:

(none)

rate this album
Track List
Notes
This "companion" to Renewal contains instrumental versions of some of the Renewal songs, plus my first song in Bellingham ("Memorial") and two other instrumentals ("Tension" and "Stuffy"). When I first created it, I considered it an inferior, "B-sides" album, but these days, I think I like it more than Renewal. It's certainly easier background music. Dad seemed to really like it, selecting more than half of its songs for Dad's Picks!
Gear: I used a Korg Triton as a controller, sound module, and effects module, and sequenced all of the tracks using Cakewalk and then Sonar.
Songs
Memorial
I started this song on the morning of 9/11, before I turned on the news. It was a light, repetitive test of Cakewalk, nothing special really. As far as I was concerned, it was destined to be Yet Another Unfinished Song. I forget what I called it.
An hour later, when I started work, I heard about the WTC and Pentagon bombings. I marvelled at how relaxed and blissful I had been just minutes ago, when I was working on music. I decided to rename the song "Memorial". I also decided to try to turn this negative situation into a positive one. I hadn't finished a song in years, and promised myself I would work on this one until I finished it.
It ended up taking me about a month. I worked on it almost every day. I wasn't used to having unlimited sequencer memory, so I kept adding sections to the song: solos, choruses, breakdowns, and more solos. I didn't want to delete any of the ideas, so the song grew and grew. It became an epic (easy-listening) jam, approaching the length of "Been Way Too Long", my longest song at that point. I had no idea how I was going to finish it. Not knowing what to do, I resorted to adding more solos...
Eventually I realized that I needed to set a time limit for myself or I would never finish. I decided to stop expanding the song, to switch gears and start editing it. Now began the endless hours of fine-toothed tweaking, mixing, and rearranging. I obsessed over almost every note, trying hard to make this a "masterpiece". By the time I had finished editing it, I think I had sucked most of the life out of it. It was super-listenable, but also super-bland. Dad liked it, however, and had me put a shorter version of it on Dad's Picks.
The good news is that I had momentum now. I was elated over having actually finished a song, and immediately started on the next one. Since "Memorial" had taken me exactly one month to finish, I decided to give myself the same time limit for the new song, which became "Renewal".
Renewal Instrumental
This instrumental version of "Renewal" is shorter, cleaned up a bit, and has a new ending. Whenever I hear it, the lyrics seem to play in my head. I don't know if that's because I've heard this song so many times, or if the organ closely emulates my singing voice. Dad selected it for Dad's Picks, prefering it to the vocal version.
Walkman Instrumental
This instrumental version of "Walkman" is shorter and has some sections cleaned up. Unlike "Renewal Instrumental", I think this stands by itself musically; no voices play in my head when I listen to it. Dad liked it, and selected it for Dad's Picks (in addition to the vocal version).
Trail Running Instrumental
This is probably my favorite Tripecac song ever! It's instrumental dance, with a dose of jazz and subtle sound effects (crickets, thunder, rain, etc.) I liked it so much I decided to record a vocal version ("Trail Running") to put on Renewal. Dad liked it too, and selected it for Dad's Picks.
Momiata Instrumental
This instrumental version of "Momiata" is a little shorter. I'm not sure if I made any other edits. Dad requested an even shorter version of it for Dad's Picks.
My Old School Instrumental
This instrumental version of "My Old School" simply mutes the vocals. I still don't like it, but it's less grating than the vocal version. My favorite part is near the end, where the instrumentation is a little denser. Dad liked it, and selected it for Dad's Picks.
Tension
This is the result of me trying to sound like Andreas Vollenweider. There's a nice "jam" section in the middle; I wish I had extended it longer! Initially, I planned to have vocals, and even wrote some lyrics. For some reason I decided to keep it instrumental.
I don't remember why I named it "Tension". I remember one of the lyrics was "There is tension in the band". Why was I singing about tension in a band? I don't remember! All I know is that I like it a lot more than "My Old School"!
Stuffy
This is a long, spacy improv which I started in January 2002 and finished in May 2002. Stylistically, it doesn't really fit with the rest of the album. Unliked the other songs, it wasn't carefully composed, and emphasizes texture over melody. I think it would seem more at home on later albums.
Day Job Instrumental
This instrumental version of "Day Job" ends a bit abruptly. I probably should have faded it out, but I was anxious to finish the album. I like it more than the vocal version.