Stores
Randy's Music Emporium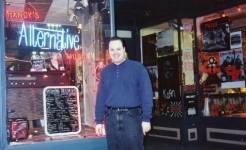 The best place to get stuff is Randy's Music Emporium.
Mail: PO Box 25315, Pittsburgh, PA 15220
Randy's store has the largest selection of Digital Sex merchandise, and is the only place guaranteed to have whatever's available.
Randy himself released the Essence and Rarities and Eyes of the Wilderness CDs on his Randy's Alternative Music (RAM) label, so it is best for him and the band if you buy those CDs directly from him. He's also a great guy, and a huge fan of the band. He's the one who introduced me to their music!
I wasn't the only one impressed with Randy. Stephen Sheehan himself writes, "Randy's Music Emporium is the best place to find Digital Sex related stuff. I've also found a lot of unusual and hard-to-find music there. Try Randy's first."
So there you have it!
If you're gonna buy CDs, try Randy first.
You can now purchase from Randy either through PayPal (sending payment to Randy's email address) or snail mail (cash or money order).
Trusted Stores
Last searched: 2005-01-28