Jess's Healthy Vegan Recipes
Here are some of my favorite recipes:
And my personal favorites from Veggie Heaven Cafe in Charlottesville, Virginia:
Rice Noodle Stir-Fry
Begin by soaking 1 package of Thai rice noodles in water.
Chop the following and set aside:

2-3 inches fresh ginger
4-6 cloves garlic

} together

2-4 carrots (Julienne or slice into small strips)
1 bunch bok choy - the white stalk-chopped

} together

1 8-10 oz can of sliced bamboo shoots
1 8-10 oz can of slices water chestnuts

Heat a large skilled at med-high heat.
Add the following:

1/2 Tbsp canola oil
1 Tbsp toasted sesame oil
1 Tbsp tamari or Braggs liquid aminos

Add garlic & ginger mix. Stir for 1-2 minutes.
Add drained rice noodles. Stir.
Add carrots and white bok choy mix, bamboo, and water chestnuts.
Turn heat down to medium-low. Stir.
Add onions and leafy bok choy.
Add the following:

2 tsp toasted sesame
3 tsp tamari or Braggs liquid aminos

Stir until noodles are soft but not soggy.
Serves: 10-12
Wheat-Free Polenta Pizza
This process is a little time-consuming but totally worth it!
Crust:
Boil 6 1/2 cups water
Add 2 cups yellow corn grits
Stir constantly and add:

1 tsp salt
*1 shaker soy parmesean cheese (optional)
1 tsp oregano

Stir until thick (5 minutes)
Spread mixture onto lightly oiled 12x16" to 16x22" baking sheet
Sauce:
Put 1 Tbsp olive oil in large sauce pan, then add:

4 cloves garlic - minced
1 medium red onion - chopped

Stir until color begins to bleach out of onion, then add:

2/3 lb crumbled tofu
1 can diced or crushed tomatoes with juice
2 small or 1 medium can tomato paste
1/2 tsp salt
1/4 tsp black or white pepper
1/2 Tbsp dried basil

Turn heat to low and simmer for 10-15 minutes. Stir occasionally.
Meanwhile, steam the following:

1 bunch broccoli, separated into small pieces
1 red pepper, sliced in thin strips
1 med-large zucchini, sliced and quartered
Together:
Spread sauce on crust, add steamed veggies
Add shredded spinach, shredded fresh basil, Kalamata olives, and (optional) shredded soy cheese.
Cook for 3-45 minutes at 350 deg F.
Serves: 6-10
Vegan Wedding Carrot Cake
Preparation:
Preheat oven to 350 deg F.
Cake: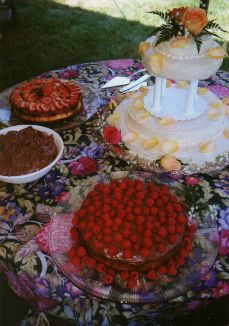 click for enlargement
Mix together dry ingredients:

13 1/2 cups spelt flour
1/4 cup baking powder
4 1/2 tsp baking soda
4 1/2 tsp cinnamon
4 1/2 tsp salt

Mix wet ingredients well in separate bowl:

4 1/2 lbs tofu (blend until smooth)
8 lbs grated carrots
3 3/4 cups canola oil
9 cups sucanut
4 1/2 Tbsp vanilla
1 1/4 cups orange juice concentrate

Add dry ingredients to wet ingredients.
Fold into mixture:

3 3/4 cups chopped walnuts
3 3/4 cups raisins

Smear oil and flour in around 4 pans of varying sizes.
Bake for 30 minutes - 15 hours, depending on pan size.
Let cool completely.
Creamy Glaze Topping:
Blend the following:

2 1/4 lbs silken tofu
1 1/4 tsp salt
4 1/2 Tbsp oil
4 1/2 Tbsp lemon juice
13 1/2 Tbsp honey (or maple syrup or molasses to make it purely vegan)

(may need to adjust or add agar flakes and arrow root for thickness)
Assembly: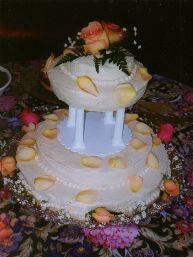 click for enlargement
When cakes are cool, invert the largest cake and frost.
Put the second largest cake (upside down) on top and frost.
Smooth the frosting so that it's even and beautiful!
Follow same stacking and frosting process with the 2 smaller cakes, now using a pillar stand as a base.
Set the pillar stand on top of the bottom two layers.
Decorate seams with pastry bag.
Garnish with flowers or fruit.
Serves: ???
Dairy-Free, Wheat-Free Maple Oatmeal Cookies
Cream together:

1 cup soybean margarine
1/3 cup maple syrup
1/3 cup honey
1 tsp vanilla

Add in:

1 cup spelt flower
1 cup walnuts
1 1/2 cup raisins
2 3/4 cup rolled oats

Drop desired amount onto greased cookie sheet.
Bake at 350 deg F for 15 minutes.
Serves: ???
Spicy Mung Bean Noodles
Boil water, remove from heat, and add:

4 packs mung bean threads

After 4 minutes, drain noodles and run under cool water until cool.
Toss noodles into a bowl, along with:
In a sautee pan, heat 1/3 cup canola oil.
Add:

1 Tbsp chili flakes
1 1/2 cup roasted unsalted peanuts

Let peanuts brown, but don't let the flakes burn.
Pour over noodles and toss.
Add in:

3 julienned carrots
1/2 cup chopped mint
1/2 cup chopped cilantro
Serves: 10-15
Spicy Tofu Patties
Marinate sliced tofu squares in mixture of:

3 parts water
1 part Tamari

Let marinate for 3 hours.
In a large skillet, heat just enough canola oil to cover bottom.
Add tofu slices.
Sprinkle with chili flakes and granulated garlic
When tofu slices begin to brown, flip them over.
Spread 1 Tbsp of Tahini on each tofu slice.
Fry until brown.
Serve hot or on a sandwich.
Serves: ???
Sesame Shitake Seitan
Ingredients:
2 1/3 lbs seitan, thinly sliced
1 lb shitake mushrooms, thinly sliced
1/2 large green cabbage, thinly sliced
1/4 cup toasted sesame oil
1/4 cup canola oil
1/2 cup sesame seeds
1 tsp red chilis
1 bunch of green onions
3-4 cloves of minced garlic
1 inch of minced ginger
Heat the oil.
Add the chilis and sesame seeds and simmer until seeds are slightly toasted.
Add seitan, garlic, and ginger.
Cook until seitan is browned.
Add shitakes and 1/2 cup water.
When mushrooms begin to soften, add cabbage and onions.
Saute just until all is cooked.
Serves: 8-12