Notices
Productions:
1. "Paris Label Will Record Omaha Band" (Essence), Kent Wolgamott, Lincoln Journal, 30-JAN-1986
It is a long way from Omaha to Paris, but there is a musical connection beween the two cities now that Digital Sex, an Omaha new music group, has signed a deal with a French record label.
The label, Sordide Sentimental, is well known among.new music fanciers, having contributed early Joy Division records and other works. The label plans to release a Digital Sex compact disc later this year. The unexpected deal began when Steve Sheehan, Digital Sex vocalist, was distributing promotional copies of the band's first album, "Essence."
"If I was to rate all the labels I'd sent these to (for the likelihood of getting a deal), Sordide Sentimental would have been at the bottom," Sheehan said. But the unexpected happened.
The first offer came in a letter to Sheehan from Jean-Pierre Turmel, who runs the small label. Sheehan and Turmel, who works for Shell Oil in Paris and runs the record company as a sideline, have since had two telephone conversations and have struck a deal.
Sordide Sentimental will cover the studio costs for the band to record enough music to fill out the 60 minutes a compact disc will hold. The tape of "Essence" and the additional tunes will be sent to France, where Turmel will be responsible for producing, packaging and distributing the CD.
"Just judging from the talks on the phone, he sounds sincere," Sheehan said. Although we're not what the label usually releases, he's discerning. It's startling and flattering to be involved with him."
The five-piece Omaha band is not expecting to get rich and famous from the deal but sees it as a step forward in a career that began in October 1982.
2. "Omahans Make Splash Abroad" (Essence), Steve Millburg, Omaha World-Harold, 02-MAR-1986
In France, a small, avant-garde label has offered the Omaha band Digital Sex a contract to release a compact disc of the band's music.
Steve Sheehan, Digital Sex's singer, said he had sent two copies of the Digital Sex album "Essence" to Jean-Luc Marre. Marre is a disc jockey in Rouen, France, with a popular radio show called "Scandale."
"Essence," according to Sheehan, entered Marre's playlist at No.8. (No. 1 was a record by a group called The Leather Nuns.) Marre gave one of the albums to Jean-Pierre Turmel, who works for an oil company and runs the record label Sordide Sentimental, which Sheehan said translates as "Sordidly Sentimental."
Sheehan said the label has released music by such groups as Joy Division, Tuxedomoon, Throbbing Gristle, and Psychic TV. "His releases are very intricately packaged and graphically very adventurous," Sheehan said.
Each also includes text written by Turmel. In a letter to Digital Sex, Turmel wrote: "I think that my text for this compact disc will be about the concept of CHARM considered under all his aspects. I am sure that you yourself will be seduced by this approach of your music (as I am myself under the seduction of your music)."
The compact disc would include the "Essence" album; the first Digital Sex single; the first side of "Recovery," Sheehan's solo extended play record; and 20 minutes of new material
Profits Would Be Split.
Turmel offered to advance the band the money to record the new material, though it would come out of future royalties. Turmel's letter says at least l,500 copies of the compact disc must be sold before it makes a profit. After that, the letter says, profits would be divided evenly between the band and the label.
Sheehan said Sordide Sentimental apparently is a one-man operation run mainly as a hobby. "Just about every single artist has exposed or worked with has gone on to bigger and better things."
Digital Sex consists of Sheehan, bassist-keyboardist-drummer-guitarist Dereck Higgins and guitarist John Tingle - all original members - plus new members Kevin Kennedy on drums and Maureen Hansen on keyboards.
3. "Nebraskans Get World's Attention" (Power in the House), Kyle MacMillan, Omaha World-Harold, DEC-1988
"A CD just fell like a meteorite on the editorial office of Compact," began Pascal Bussy in his review in the French music magazine.
Indeed, "Power in the House," a compilation of 18 original works by Nebraska musicians, has been hitting not just France but the international music scene like a meteor shower. Some of the leading music magazines in the United States and Europe have reviewed it, and independent record distributors in Europe and the United States have agreed to market it.
"It's an endearing collection and that whole thing looks damn fine, making you wonder why people don't do that kind of thing in the UK (United Kingdom) to any great level of perfection," said Lance Johnson in London's Offbeat magazine.
Rock & Roll Disc of Memphis, Tenn., gave the recording 3 1/2 stars.
Though the end result is probably too unfocused and inaccessible for the average listener, there is some worthy original work here as well as some inspired perfommces," wrote Brad Bradberry. "I'm sure the target audience lies somewhere between the Philip Glass and Andy Warhol crowds anyway.
Ipso Facto in San Francisco said some people might regard the recording as "just another upscale, profit-minded recording project. ... But upon further inspection, a remarkable, unique shibboleth surfaces that identifies this as unmistakably Nebraskan (?), or if you don't know what Nebraska means, a rare treasure from an unknown land."
While critics may not have always been sure what to make of "Power in the House," they seem unanimous in their praises of it. And that couldn't please Stephen Sheehan more.
He conceived the project and coordinated it with the help of the Collaborative Arts Project, which produced such events as the "Ten visions" multimedia showcase. The recording was released in August 1988.
Nearly all of the 500 CDs have been sold along with about half of the 500 cassettes, but Sheehan said sales were never the objective.
"We were trying to elevate the profile of the artists of this area through this project," he said. "Tbat to me is the bottom line of success."
Sheehan, a member of the now-defunct Omaha band Digital Sex, said he was confident that "Power in the House" would stand out from other geographical compilations because each selection is strong and the overall recording has flow from beginning to end.
And even if the reviewers didn't like the music, he said, they could see that "tremendous effort and time went into it."
Many of the critics were fascinated by the packaging.
The cassette or compact disc comes in the equivalent of a card box that includes an artifact from Jobbers Canyon as well as graphics by 26 artists, hand screened by Paul Koch of Omaha.
Digital Audio and Compact Disc Review ran a photo of the disparate elements of "Power in the House," along with a review that said, "the works - both musical and visual - go beyond what most of us are used to hearing and seeing, all of which makes this package a true adventure in sight, sound and touch (thanks to that nifty little piece of rock)."
Compact's Bussy said, "This is one the first times ever that a CD (even if it does have its own case) has been similarly diverted from its first function (pure music) to become part of a whole, of something hybrid and exciting destined above all to the collector's market."
"On the whole," said William Ruhlmann in Goldmine, a record collecting journal, "the package is strong evidence that innovative, experimental, and at times, loony art and music are not the exclusive province of the U.S.'s two coastlines."
Performances:
"Rockin' Reunion," Omaha World Herald, 26-DEC-1992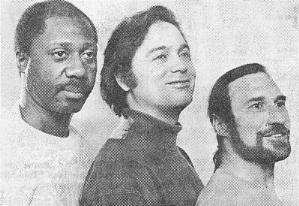 Digital Sex, one of Omaha's hottest bands of the 1980s, will hold a one-night reunion with its original personnel at 8 tonight at the Eagles Hall 24th and Douglas Streets. Pictured here, from left, are bassist Derick Higgins, vocalist Stephen Sheehan and guitarist John Tingle. They will be joined by, drummer Greg Tschlis, who left the band in 1984 and now resides in New York. Sordide Sentimental, a small French label, released the group's recording "Essence and Charm" in 1986. Digital Sex stopped performing together 1987. Opening performers for the 7 p.m. concert will be Hannah's Porch and For Against. Admission is $5.
-- Kyle MacMillan
2. "Digital Sex May Be Back," Tony Moton, Omaha World-Herald, 17-FEB-1994
The once-popular Omaha rock band Digital Sex apparently is considering a comeback now that a Pittsburgh record label has agreed to re-release one of the group's old recordings.
"Essence and Rarities: 1982-1987" is a collection of Digital Sex's work from its album "Essence" and previously unreleased material. RAM Records, a new independent label, is behind the project. The'CD will be digitally remastered at Omaha's Digisound Inc. by engineer Tom Ware.
"I'm sure the disc will be available locally. We just haven't worked out the details," said band leader and vocalist Stephen Sheehan.
Sheehan's band, which he said suffered a difficult breakup, might return to the live music scene.
"My first memories of the band after the breakup were painful, and the whole experience traumatized my love of the music," Sheehan said. "Thankfully, the passing years soothed most of the hurt and we're all friendly again. Evidently, time heals all wounds."
Digital Sex recordings were popular on the European market during its five-year existence and the group drew well at Omaha shows when the alterntive music scene was virtually nonexistent. Sheehan then put together a band called the World, which never reached his previous band's nototiety.
"How we ever created the delicate music that found its way onto 'Essence' is completely beyond me," Sheehan said of Digital Six. "During the band's heyday, we were young and there were drugs. And ego. There was a time when I was determined to distance myself from the memory of the band, mostly because of the way it ended."
3. "Digital Returns More Mature", Tony Moton, Omaha World-Herald, 31-MAY-1994
Digital Sex, the free-spirited band that was a rock force in Omaha in the 1980s, has returned to the music scene after ego and personal problems led to the band's breakup seven years ago.
Thursday night, an older and wiser Digital Sex put its problem in the past and was well-received by about 60 people at the Jones Street Brewery. It was the first in a series of summerlong engagements aimed at recapturing the magic of days gone by.
"We played as a band without having the ego or the head trips," lead vocalist Stephen Sheehan said after the show. "I have never laughed so much or had so much fun with this band. We got downright silly at one point."
Being able to laugh together while playing together was something Digital Sex appearently had a hard time doing when it created a local and international buzz with its distinctive sound of ambient pop and art rock.
Personality clashes and admitted substance abuse led to a nasty breakup in 1987.
Digital Sex regrouped for about a half-dozen one-shot gigs but never considered a full-fledged return until recently.
"Commitment was the first thing that spurred us to return," Sheehan said.
The second thing, Sheehan said, was learning that Randy's Alternative Music label in Pittsburgh was releasing a Digital Sex anthology, "Essence and Rarities: 1982-1987." The CD is due in stores June 30. (The band's 1986 CD, "Essence and Charm" a French label re-release, already is on local store shelves.)
At the Jones Street, Sheehan was joined by bass player Dereck Higgins, drummer Dan Crowell, guitarist John Tingle and newly added second guitarist John Miller in reacquainting the public with the Digital Sex sound. The group's trademark lilting melodies and trancelike grooves were punctuated by roaring guitar rifts and Sheehan's playful vocalizations.
"I think we played well and hard," Sheehan said. There was no hot-dogging or show-boating. And the energy we had came off the stage. It was good to be back."
A female rock band, Lavender Couch, opened the show. The two bands will return to the Jones Street this week for another Thursday night performance.
4. "Rock Group Digital Sex Reunites for Rainbox Benefit," 10-NOV-1989
Omaha-based rock group Digital Sex will reunite for only one performance on Saturday, December 9, at Sokol Hall at 13th and Martha Streets in Omaha. All profits from the show will go to Rainbow Studios in Omaha, hence the title "Rainbow Benefit." Appearing with Digital Sex will be For Against from Lincoln.
Digital Sex began as a group in 1982 between vocalist Stephen Sheehan and bass player Dereck Higgins. The band's early repertoire included original songs as well as versions of songs from lesser-known groups of the time, such as The Cure, New Order, Joy Division, and many others. Over time, Digital Sex wrote more of its own material and gradually dropped cover material. In 1983, the group released the single "Dervish Dance/ How Many More Times" on the Post-Ambient Motion label. The following year saw the release of the LP "Essence," which lead to a deal with the French label Sordide Sentimental. This small but well-known independent label licensed the Digital Sex single and LP, and, along with brand new material, released a Compact Disc of 19 tracks entitled "Essence & Charm." This CD, released in 1986, included a booklet with text in French and English, photographs, and a picture etched onto the CD itself. Digital Sex officially disbanded in 1987, but this reunion will include original members Sheehan and Higgins, as well as John Tingle on guitar, Maureen Evans-Hansen on keyboards, and Tom Ware on drums. Ware has also served as the band's studio engineer and co-producer on all itsstudio projects.
Some of the members of Digital Sex have reunited with other musicians to form a new group, The World. This group includes Sheehan, Tingle, and Evans-Hansen, as well as Scott Miller on drums and Craig Crawford on bass guitar. The World will have its debut on Wednesday and Thursday, November 29 and 30, at Howard Street Tavern in the Old Market. The World will also be recording soon, as Sheehan has just signed a solo record deal with a large independent French label, New Rose Records of Paris. The record, with the working title "Eyes of the Wilderness," will be released in early 1990 as an LP and CD, and will feature material by Sheehan working with various musicians, including The World. The LP will again be co-produced with long-time collaborator and studio engineer Tom Ware, and will be recorded at Rainbow Studios.
We ask for your support in any way to help get the word out regarding the Rainbow Benefit. If possible, please announce the benefit before Thanksgiving. If you need more information, contact Post-Ambient Motion. Thank you.
5. "Digital Sex Reunites at Sokol Hall," Matt Van Hosen, DEC-1989 or 1994
Stephen Sheehan was in an Omaha record store one day in October, 1982 when he spotted an ad about a band looking for a keyboard player who was into groups like Genesis and Japan.
Although he didn't care much for either band, Sheehan nonetheless inquired. Shortly after, he found himself involved with a new Omaha band that was a little different from the usual Omaha cover bands.
The band, Digital Sex, was a "rock group that had distinct European leanings," Sheehan said. "The concern of Digital Sex, as with many European bands, both then and now, was with melody and atmosphere."
He said Digital Sex made "music that affects you in a way so that you are suspended from reality."
Sheehan alternated with fellow co-founder Dereck Higgins in providing the voice and bass guitar for the band. John Tingle powered the guitar work, and pounding out the beat was originally Greg Tsichlis, who was later replaced by Kevin Kennedy. Maureen Evans-Hansen was a mainstay of Digital Sex, giving the band its keyboards.
For five years, Digital Sex, with its various line-ups, played and made music that, if not entirely appreciated in Omaha, became popular around the world, particularly in France.
Digital Sex recorded at Rainbow Recording Studios in Omaha, releasing two singles and one album on the Post-Ambient Motion record label in Omaha.
The French record company Sordide Sentimental signed up the Omaha band in 1987.
A disc jockey in Paris had played the band's album and it became popular enough to rank No. 5 on his station's playlist. Sordide Sentimental noticed this success and contacted the band, suggesting that Digital Sex make a compact disc (CD), comprising both its earlier material and new songs.
The result was the CD-only release of Essence and Charm, an anthology, in 1987. As with the most of the band's work, it enjoyed both critical and commercial success.
But later in 1987, the band split apart due to "denial, guilt, anger and blame," Sheehan said.
Now, more than two years later, Digital Sex is re-uniting for a single performance Saturday at Sokol Hall. The line-up will include Sheehan, Higgins, Tingle, Evans-Hansen, and Tom Ware on drums.
Sheehan said Saturday's concert will be symbolic of more than just a rekindling of music and a reunion of musicians and friends. It will also be Digital Sex's resignation from music and the band's payment of respect to its fans.
The show may also provide a renaissance for Sheehan's latest band, The World.
Recently signed to New Rose Records in Paris, The World's debut album will include both solo material from Sheehan and songs from the line-up of Saturday's show, except that Tom Ware will be producing instead of playing and in his place will be two members of Omaha rock band Mousetrap, Craig Crawford on bass and Scott Miller on drums. The album is tentatively titled "Eyes In The Wilderness."
"At this point it is inescapable that it (The World) is an outgrowth of Digital Sex," Sheehan said. "It is similar, but it is not the same. The major difference being that Crawford(bassist) and Miller(drummer) give it a propulsion or drive that is more powerful than Digital Sex was."
Sheehan said he hopes the new album will be released in March, 1990.
Until then, Digital Sex fans have the opportunity to hear the band one last time Saturday. Sokol Hall's doors will open at 7 p.m., and the music starts at 7:30 p.m.
The Lincoln-based band For Against will open the show. Admission is $6, and the concert is open to all ages. A cash bar will be available for those of age.
6. Stephen's trip to Europe, Stuart Allen Scott, unknown publication
The World, or at least part of it, will soon be taking a trip. Stephen Sheehan, one member of the local alternative band, will be traveling to Europe soon to promote his solo album, "Eyes of the Wilderness." The album was recently released in Europe under a French label.
Sheehan, who signed a deal to do the album before the World formed five months ago, said he hopes to create enough interest in the band, which performs on the album, to win them a contract.
The World developed from merging two other local bands: Digital Sex and Mousetrap. Vocalist Sheehan, guitarist John Tingle and keyboardist Maureen Evans-Hansen previously played with Digital Sex, while bassist Craig Crawford and drummer Scott Miller played with Mousetrap.
"It's like the rhythm section of Mousetrap and the melody section of Digital Sex merged," Sheehan said. "I think the World will recognize the promise Digital Sex never made."
Sheehan said he believes the local alternative scene has more variety now than it has ever had, and his band is doing well.
"It's nice to see people really connect to what you're doing," he said.
The World will be performing Tuesday and Wednesday at the Howard Street Tavern as part of an release party for Sheehan's album.
"It'll be nice to play in front of people and give them something to take home," Sheehan said.
Old Ads (outdated):
1.
Essence

ad, unknown source, circa 1985

DIGITAL SEX - "Essence" (Post-Ambient Productions): From the same restless, fertile scene (Lincoln/Omaha, Nebraska) that brought us FOR AGAINST comes Steve Sheehan & Co.'s debut lp (they've lust ha'd a compact disc released through Jean-Pierre Turmel's SORDIDE SENTIMENTALE label as well) of seductive, subtly scary electronic pop/rock. Perfect for exorcising loneliness and exquisite cover graphics, too. $7.00
Current Ads and Ideas:
1. "Trout Tunes" video ideas from Roger Speakman (roger5@home.com), 17-JUL-1998
[I have] a copy of unedited footage of two performances we of the TV show, "Trout Tunes", shot in June of 1994, a total of about 2 hrs 40 min. One performance is accoustic and the other is with their usual electric instruments.
If there appears to be enough interest (perhaps you could survey your website surfers), we could offer a produced version combining these two performances as well as a third I believe we have but have not been able to find for the time being.
The one mentioned to combine the the two June 1994 performances (which my partner on the show says are the best) might sell for aproximately $30.00 plus about $5.00 S&H.
We will offer it to the general public as a finished production [rather than raw footage]. I would like to have a fairly good idea as to how many at a minimum we could sell. I'd be looking for a likelihood that we could sell at least 25-50.
[Concerning the raw footage] some of it is rather dark (the problems we deal with shooting in dark night clubs). In a more involved produced version, this can be somewhat brightened and color corrected. Both were shot with two cameras, live switched and we mixed our own stereo audio which generally can be considered "CD-release-quality".
"Trout Tunes" showcased local, regional and some well-known national bands and musical artists performing in and near Omaha, NE. We covered bands perfoming primarily their own, original music in the classifications of Alternative, Folk, Blues, Reggae, World-Beat and others, generally trying to avoid blatent "pop". We totally avoided "Cover Bands". The creator and Exec. Producer as well as Director and host of the show is Mike Kronschnabel (known on the show by his radio DJ name, Ryan O'Connor and to his friends as "Kronch"). I and my company, Hollywood Export Video Production Services, provided the production equipment and I was the associate producer as well as a camera operator, editor and production engineer.
I'm also thinking of discussing with Stephen the possibility of making a live performance CD taken from the soundtrack of our videos. See if there is any interest there, too, if possible.
I enjoyed your site and look forward to seeing it after it takes more shape. I sure hope many others hit onto it too and that a fair number of them are interested in a video and/or CD.
Thanks for YOUR interest,
Roger Speakman
2. T-shirt ideas from Mike Howard (geezippers@aol.com), 18-JUL-1998
Stephen writes: "Mike Howard said the minimum order he would need to run Digital Sex Essence & Rarities T-shirts would be 24 shirts at $6.75 each. These were gorgeous. They had a BIG E&R cover on the front in sharper colors, a BIG B&W photograph on the back of me, Dereck & John, a P-AM logo on one of the sleeves and the shirt itself was made from unbleached cotton."
3. Press Release by Maureen Evans-Hansen regarding Chain/DLK, 05-JUN-1999
[I was initially going to simply provide a link to this press release, but the original release suffered from misspellings, typos, bad links, improper e-mail anchors, missing pictures, redundant info, and hard-to-read text (thanks to over-backgrounding). I've therefore made my own, "proper" version of the release and included it here. -- Travis]
Press Release - Maureen Evans-Hansen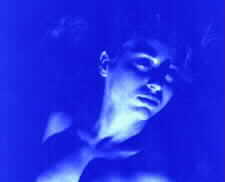 Chain/DLK, an independent music magazine in Torino, Italy, has just released a compilation CD of electronic music, which includes industrial, ambient, experimental, and synthpop.
The magazine was formed by Marc Urselli-Schurer, to address the lack of music magazines for the "gray area" of electronic music; most of the music magazines were focusing strictly on heavy/goth. He joined with Maurizio Pustianaz, who had his own personal webzine and radio show, in 1998.
At their web site, http://dune.fionline.it/chaindlk/enter.html, you can access their magazine, radio show (broadcast via RealAudio), and mail-order catalogue. Chain/DLK Issue #6 is the first of a series of music review magazines which includes a CD as part of the package, and is distributed worldwide. The current issue includes music by:
Wumpscut
Noxious Emotions
Mimetic Field
Matrix
Eye
TV Noise
Devotion
Des
Trans Atlantic Crush
Dream Sequence
Zoar
Maureen Evans-Hansen
hi tom
Erasermen
Circus Joy
Zero
Cliffs & Bridges
Gerstein
Issues can be purchased through these US outlets:
Carpe Noctem (magazine)

1093 E. Main St. #518, El Cajon, CA 92021

http://carpenoctem.com/

Crown Chakra (distribution mail-order)

P.O. Box 32071, Kansas City, MO 64171
phone/fax: 816.561.5223

Loudcat Productions (tape label, dist. mail-order)

22 Henry St., Sayreville, NJ 08872

http://noiseweb.com/loudcat

Possessive Blindfold Records (label)

2251 Frederic St., Burbank, CA 91504

http://home.earthlink.net/~possessv

Pure/RRR (label)

23 Central St., Lowell, MA 01852
phone: 978-454-8002

Zidsic (tape label)

Zan Hoffmann, P.O. Box 4730, Louisville, KY 40204

http://www.tool.net/zidsic
Or you may contact:
Maureen Evans-Hansen

Ultramarine Blue Productions
456 Dela Vina Ave. #K4, Monterey, CA 93940

http://www.ultramarineblue.com
Other Notices
1. "Drummer Mourned," Tony Moton, Omaha World-Herald, 12-JAN-1998
An Omaha man who apparently committed suicide last week by jumping from the sixth floor of a hotel was a well-regarded local musician known for his expertise and his idolization of the late Keith Moon.
Friends and associates of Kevin J. Kennedy, 43, said they were shocked by his death.
He always seemed happy and positive, they said.
"He always had an optimistic, upbeat attitude," said Stephen Sheehan, formerly of Digital Sex. "He was always interested in the band and whether it performed as well as it could."
Sheehan said Kennedy was a seasoned musician who played loud and hard;
His body was found Tuesday night at the Doubletree Guest Suites near 72nd and Cedar Streets. Police said he jumped from the sixth floor of the hotel's indoor atrium. Kennedy was not a guest at the time.
After funeral services Friday, the body was to have been returned to his native Scottsdale, Ariz., for burial this week.
Tim Hasenpflug, who played regularly with Kennedy in a studio project with the band T.D.K., said the drummer was a good friend. They started playing together about 14 years ago.
"He was one of my best friends," Hasenpflug said. "Kevin was a truly genuine, loving, warm person in all aspects of life. We were super tight. There was nothing we couldn't tell each other.
"We don't know why it happened. It's one of those questions that can't be answered."
Kennedy had established himself as a virtuoso among local bands seeking a drummer able to handle a range of rock styles.
He played with bands in the Phoenix and Denver area in the early 1980s.
After Kennedy moved to Omaha he joined groups such as Ticket to Mars, On the Fritz, the Man's Band, the Doo-Rags and T.D.K. Kennedy, Hasenpflug and fellow T.D.K. member Darrell Klein formed a Beatles tribute act called Beatle Night.
"He was a fabulous drummer," Klein said. "He was like Keith Moon -- he played outside the lines but under control."
Klein recalled the first time he played with Kennedy - in 1984 with Greg Hutson in Ticket to Mars at the One-Eyed Jack Saloon (now the Saddle Creek Bar and Grill).
Klein was impressed with Kennedy's versatility.
"When we sat down and started playing he was playing all sorts of syncopated stuff with different time signatures.... that was the beginning of a lifelong friendship. He was a prankster, but his standards were very high.
Kennedy's playing style was no doubt a result of his fascination with Moon, drummer for the band The Who who died in 1978 of a drug overdose in London.
According to Sheehan, Kennedy attempted to join the Who after Moon's death by sending a letter to guitarrist Pete Townshend.
Kennedy was born to replace Moon, Sheehan said.
"I think Pete responded with a letter saying 'thanks but no thanks.' But I don't think it was a form letter."
He continued his pursuit of Moon on an academic level as a student at the University of Nebraska at Omaha. Kennedy, who was working on, a master's degree in psychology, had started working on a thesis based on a case study of Moon's life.
UNO professor of psychology Ray Millimet, who had advised Kennedy as an undergraduate and graduate student, called him "one of the nicest, most polite students I've ever had. He was genial and mature, a wonderful person."
Millimet said Kennedy had been making attempts to interview members of Moon's family and those who could provide information and insight into the late performer.
It apparently was Moon's style of musicianship that most impressed Kennedy.
"I don't think he was taken with Moon's life ending, though it was tragic," Millimet said. "He was interested in him as a person, not as a tragic figure."